Heart of Man Training in Cebu (Toledo), Philippines
Pastors Raymond Lombard, Ronnie Hepperly and Peter Boland visited the Philippines to train a group of 24 Pastors and Evangelist. Many of them were young people.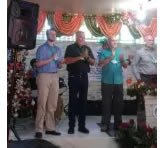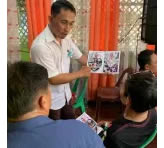 Pastor Pedro standing next to Pastor Raymond, is a real Church planting pioneer and has started more than 400 house churches in the Philippines.
The mission field is not without adventure and adrenaline rush. Pastor Raymond had to travel on the rear of a motorbike to cross the treacherous mountains between Cebu city and Toledo where the training took place.